Today, more and more people are harnessing the power of the sun to utilize solar energy to for their electric and hot water needs and even to heat your pool. Once the solar system is installed, homeowners can look forward to lower energy costs and nearly no maintenance.
PROTECT YOUR INVESTMENT AND EXPAND YOUR SWIMMING TIME
After home ownership, the decision to build a pool is one of the most significant investments any homeowner will ever experience. Those that decide to make that investment know what great family times can be had enjoying the beautiful Florida sun frolicking in their pool. Unfortunately, the pool is typically only enjoyed in the warm weather unless it is heated, which can be a huge cost if it is electric or gas heated. By far, the most cost efficient option, is to heat your pool with solar energy and expand the use of the good times around your pool beyond just seasonal usage.
FLORIDA SOLAR POOL HEATING TIPS:
Here are a few tips from Superior Solar, one of the top Florida solar companies; they were named the #1 solar contractor in Central Florida by Solar Power World and highly recommended by roofers, builders and homeowners.
Think about these considerations if you're considering heating your pool for year 'round use:
According to the Department of Energy, solar pool heating is the most cost-effective use of solar energy in many climates.

A solar pool heating system usually costs between $3,000 and $4,000 to buy and install. This provides a payback of between 1.5 and 7 years, depending personal costs and usage.

They also typically last longer than gas and heat pump pool heaters.

Using solar power reduces consumption of our natural resources and is a great "green" option for your pool.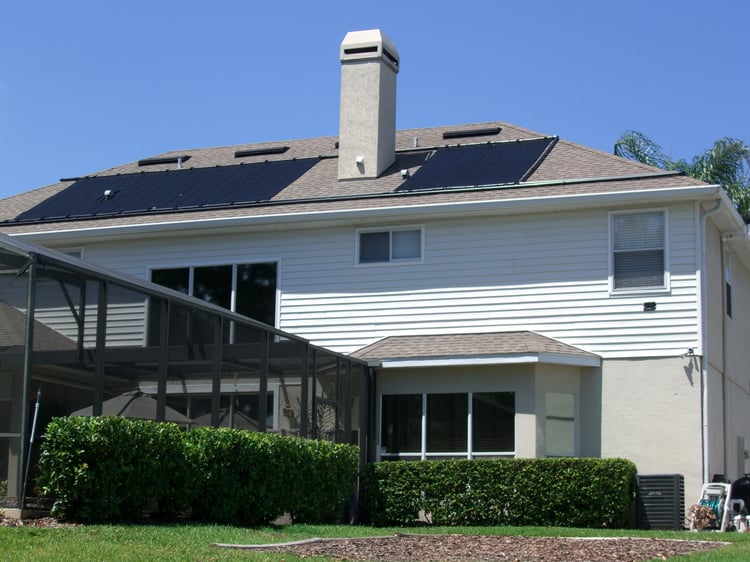 THE PROCESS:
First, choose a reputable Florida solar provider such as Super Solar. They will make the process quick and easy.
They will set up a phone consultation to determine if solar energy is the right choice for you.

They will conduct a home assessment to make sure information in this phase is sun access. We will also take a look at your home's mechanical and electrical systems.

Engineers will analyze the data and begin to match data with hardware components to maximize energy output and efficiency.

The installation process will begin until all panels are installed and the savings can begin.
CHOOSE THE RIGHT FLORIDA SOLAR PROVIDER:
Superior Solar is one of the top Florida Solar dealers, offering a wide variety of solar solutions including solar pool heating. They have been the top choice for tens of thousands of clients since they first opened in 1984. They specialize in solar electric, solar water heating and solar pool heating solutions for both residential and commercial customers.
If you're considering expanding the use of your pool with a heater, contact us for a no-obligation quote. For more information about the company, please visit: http://www.superiorsolar.com/about
Topics: Solar Pool Heating
Get a Free Analysis & Quote