Solar Pool Heating for Your Home
Actually get joy from your pool and say goodbye to pool heating costs.
You can save hundreds, if not thousands, each year by switching to solar pool heating.
Switch to Solar and Save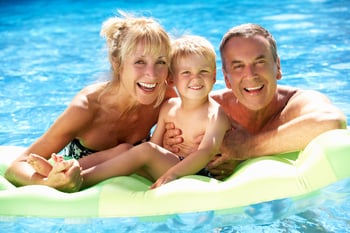 Solar pool heating is the most cost-effective and efficient way to heat your swimming pool. Heating your pool with solar energy will save you hundreds, if not thousands, of dollars each year when compared to gas heaters, electric heaters and heat pumps.
Why Choose Solar Pool Heating?
Zero operating costs. Renewable energy from the sun heats your pool, so no additional energy is needed to power the system.
Ready when you are. Other heaters can take hours or days to heat the pool. Solar automatically operates whenever the sun is shining and your regular pool pump is running. Your pool stays warm throughout the season and is ready when you are.
Quality equipment. Heliocol solar panels produce more energy, last longer and are better suited for the Florida climate than any other solar pool product on the market. That's why we're so proud to be the exclusive Heliocol dealer in Orlando and the greater Central Florida area.
Maintenance-free. Heliocol panels are built to last up to 20 years or more, are maintenance-free and are backed by a lifetime-limited warranty so that your investment is protected.
Clean power. Solar heating systems emit no air pollution whatsoever. Reduce your carbon footprint with solar pool heating.
$0 due upfront.

Go solar now, with no money down. With our financing options, you won't need to pay a single cent upfront to make the switch to solar energy.
How It Works
With an automation package, our solar pool heating systems are completely autonomous. Once you set your desired temperature, sensors will monitor your pool's water temperature and the amount of sun available to the solar panels. If the water needs to be heated, the solar valve opens and diverts the pool water up to the solar panels where the water is heated and sent back into the pool. This process is repeated until the pool reaches its desired temperature.
The Heliocol Difference
We are the exclusive provider of Heliocol solar panels in Orlando and the Central Florida area. Heliocol solar panels produce more energy, last longer and are better suited for the Florida climate than any other solar pool product on the market.
Elevated mounting hardware. Heliocol's patented roof attachment hardware allows for the system to expand and contract without compromising the integrity of the roof anchors.

No maintenance or stains. Since Heliocol uses a patented, permanent connection instead of rubber hoses, there is no maintenance needed on the system. Competitor systems need their rubber hose connections tightened annually and changed every few years to avoid staining of the roof from the rubber hoses.

Lowest operating cost. While Heliocol is usually a little more expensive up front, it has the lowest back pressure ratings in the industry and significantly lower operating costs than competitors. This, in addition to avoided annual maintenance fees, means that any extra upfront costs are returned very quickly.
Heliocol features the most technologically advanced and structurally solid solar collection panels available. These components make Heliocol the best design on the market:
Certified for Florida wind loads without hurricane straps (i.e. significantly less roof penetrations)
Most recommended solar system by roofers
Most requested solar panel by insurance carriers for replacement of solar panels affected by high winds.
Maintenance-free: virtually every other system needs costly annual maintenance
Patented gator clamps allow Heliocol panels to be mounted directly into the trusses ensuring reliable penetrations and eliminating the need for unsightly and unreliable straps.
Lower back pressure on your pool system than any other system
Individual tube design and allows for proper evaporation of rain
Individual tube design maximizes the coverage of the roof space
Is the only solar panel appropriate for flat roofs.
Outstanding customer support from manufacture through sale to referrals
Best warranty in the industry.
Get a Free Analysis & Quote
What People are Saying About Solar Source
Solar Source did my original solar system, no way to go with anyone else! Guys did great job installing, system working great!!!
Solar Pool Heating - Lakeland, FL