If you're considering the eco-conscious and cost-effective decision to use solar heating for your pool, what are your next steps? You've read the reviews, you know what to ask before you buy, and you've compared your solar provider options for the right cost, installation, and effectiveness for you - right? Don't worry, we've got you covered! There are many pros and cons of using solar energy, and they all come down to the cost, installation, and effectiveness of solar heating for pools.
Costs:
Having a pool is one thing, but heating it is another. Why not be able to use your pool all year — without additional costs? You already have to replace the pool liner, maintain cleaning devices, and continually buy chlorine or salt, so adding regular pool heat pumps or gas heaters will make pool ownership even more expensive. Gas heaters and heat pumps are extremely costly to operate and add monthly electrical expenses that total over a thousand per year. These costs and excessive energy use are why solar pool heating has become so popular in recent years.
While there are initial startup costs of solar panels, the solar energy from the sun is free and maintenance on those solar panels can be minimal to none. Heliocol panels provided by Superior Solar are built to last and have a 12 year warranty that includes parts and labor. Gas and electric pool heaters usually need to be replaced every five to ten years, but many Heliocol panel systems outlast the roof they're installed on! While the costs of natural gas and electricity continue to rise, using solar panels for heating your pool will pay for itself in 3 to 5 years on average.
Another added benefit of using solar heating for your pool is the eco-friendly increase in your home property value by tens of thousands of dollars. A pool will almost always be appealing to potential buyers, but reducing your energy bills by using solar heating can make your home even more appealing to a future homeowner.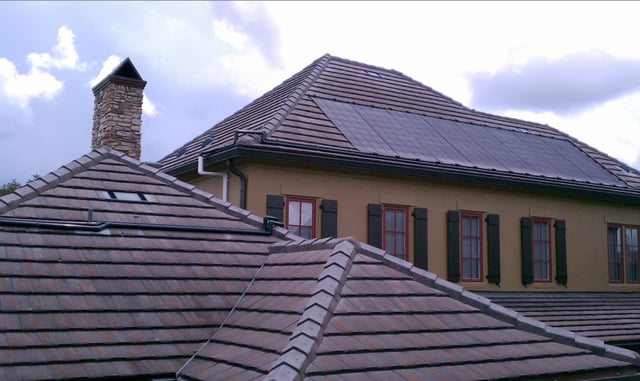 Installation:
No matter how great of a DIY homeowner you are, installing a solar pool heating system is always better left to the professionals. When you choose a Superior Solar system, you'll not only get complete installation, explanation, and guaranteed satisfaction, you'll receive a warranty on labor services and all Heliocol solar heater parts. Superior Solar technicians always make sure that you understand how your system works before the installation process is considered complete. You will be equipped with a homeowner's manual for basic instructions and small troubleshooting, online videos that explain more details about the system, and warranty peace of mind should anything malfunction while you enjoy your newly eco-friendly heated pool.
Effectiveness:
If you've never experienced solar panel heating before, you might think measuring a solar heating system might be complicated. It's not! You can calculate the efficiency of a solar heating system you're considering through the performance rating of the solar collector in the system. This thermal performance rating is measured in British thermal units per square foot, per day. A higher Btu number means more efficient solar energy collection in that system. However, you want to know the total provided heat from the system to understand its true value, not by the heat it produces per square foot.
A high-efficiency system that's undersized will produce less energy than a lower-efficiency system with more square feet of solar collectors, so multiply the total square footage of the system by the efficiency per square foot to determine the total production of the system. The system you want to find is one that produces more total heat from available roof space than any other solar heating system, like the Heliocol systems Superior Solar provides. Heliocol panels also come in numerous sizes to accommodate almost any roof and take advantage of every available inch to maximize total energy production. With Heliocol, you're getting the smartest, most cost-effective, and the most efficient solar pool heating system in the industry.
With Superior Solar, you know you're getting the best solar panel heating for your pool, for your budget, and for your home's property value. Compared to traditional pool heating options, solar pool heating is the most cost-effective way to enjoy your pool all year in sunny Florida. Get a free home analysis and quote to start saving with Superior Solar!
Topics: Solar Pool Heating
Get a Free Analysis & Quote