Commercial and Industrial Solar Hot Water Preheating
Fast Payback and Cost Effective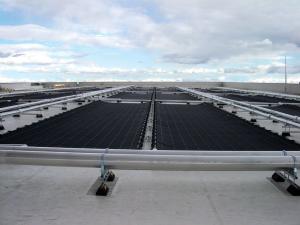 One of the newest and most cost effective ways to enter and receive the benefits of solar energy for commercial and industrial uses is with solar preheating. It assists with hot water production for industrial and commercial buildings. It can be installed more quickly and lower cost than other types of solar thermal energy collectors. It is by far the fastest payback of any solar system. Commercial and industrial solar preheating is an outstanding, cost efficient alternative to conventional water heating methods including gas boilers and electric water heaters. The many benefits of commercial solar preheating systems include:
Energy savings of up to 70%
Systems can produce all or part of hot water demand for most businesses
Functional all year round
Substantially reduces CO2 emissions
Longer equipment life
Improved boiler efficiencies
Qualifies for the Federal Tax Credit or Renewable Energy Grant and other incentives.
Using large volumes of water? Solar Preheating will save you money!
Virtually any business that uses large amounts of hot water can benefit and profit from a solar preheating system. Types of businesses that will see great rewards from using solar preheating systems include:
Hospitality industry - Including resorts, hotels, motels, restaurants and theme parks. Laundry, dishwashers, bathrooms, and pools can be made more efficient and less costly to operate with a solar preheating system.
Hospitals and medical clinics and nursing homes - The cost of producing large quantities of hot water required by these types of facilities can be substantially reduced by a Solar Source preheating system. These facilities normally generate payback back within 2 ½ years.
Car washes - With large amounts of warm water generation, solar preheating is a tremendous benefit. Depending on the volume, a direct circulation system with no heat exchanger could cut down on the investment cost.
How Commercial Preheating Systems Work
Solar preheating is a supplement to conventional water heating systems not a replacement. The systems work in conjunction with the facilities existing equipment by reducing system strain, and gas or electricity, needed to power it. The result is a dramatic reduction in energy consumption, carbon emission, and equipment wear at a very affordable price.
Solar preheating systems designed and installed by Solar Source use low temperature unglazed solar collectors made of UV stabilized polymers for use as solar panels. Water or other liquids circulate through the collectors absorbing the heat from the sun. The heated liquid is then either directly added to the conventional system or through a heat exchanger.
Our team of solar system engineers has designed some of the largest solar water heating systems in the world!
This is a very simple, quick and cost effective way to become more energy efficient. Systems qualify for the Federal Tax Credit and are exclusively sold, designed and installed in Central Florida by Solar Source.
Call us for a free commercial solar preheating evaluation today!
What People are Saying About Solar Source
This company blew me away. We wanted Solar so we got 3 companies out to bid, and Solar Source was recomended by a neighbor and although their price was mid range, their customer service and knowlege was by far superior to the other companies. This was a big purchase for us and they spent a lot of time explaining/educating us. They explained the whole process so we understood everything. When I had a question, I called/emailed/texted and they were straight back with me. Our panels look fantastic, much cleaner and more modern that I thought. Installation crew kept me aware of the whole process. If you get Bryan as a Sales person you're in great hands, what a real person. Tina in the office is super human, she jumped through many hoops and made it all in a day's work. If you are thinking of going Solar, this is the company to take you there.
Solar Electric (PV) - Bradenton, FL