In the summer, temperatures begin to soar and hopping in the pool is a great way to cool down. It can bring hours of enjoyment for children, but despite the refreshment it brings, it comes with some dangers as well. Drowning injuries can occur in 1 to 2 minutes, so it is best to make sure you have the following pool safety equipment to help prevent disasters.
Fences
The best way to prevent drowning is by installing a safety fence around the pool. This will prevent children, animals, and adults from accessing the pool when you are not present to supervise. For a fence to be effective, it needs to be at least four feet tall and either wooden or metal. It should not be chain-linked because children can climb over the fence, so vertical bars with minimal space in between is ideal. You also will need a gate that has a lock and makes sure the latch automatically closes to prevent the gate from being left open.
Alarm Systems
There are two types of alarm systems that make for great pool safety equipment. The first alarm system you should have in place is if a door into the pool area is opened. If you do not have a door that goes into the pool, you can set up perimeter alarms that will sound if someone walks past the beam.
Another type of alarm system you can put in place is a personal alarm. If you are out working in the yard, consider putting a personal alarm on your child's wrist. You can combine that with a pool surface alarm, which will sound if the water is disturbed.
Pool Covers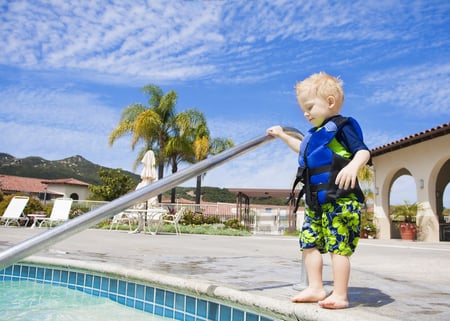 Another effective pool safety equipment is a safety cover. Most pools have manual covers that can be purchased and added to your pool. You want to make sure that it fits across the top of your pool, leaves no gaps, and is taut. There are some pool covers available that are motorized, allowing you to open and close your cover with the press of a button. When trying to decide which type of cover to get, remember that you want to have it strong enough to hold two grown adults and a child. Note that floating pool are different from safety covers. The floating pool covers are used solely for heat retention and should not be used for security.
Rescue Equipment
The most important pool safety equipment you can have is rescue equipment. These include life jackets, ring buoys, and a catch pole. Even the most experienced swimmers can experience fatigue and muscle cramps, making these pieces of equipment vital. Another great resource to have is a phone next to the pool in a waterproof case. This will allow you to place a phone call if necessary, or you can take phone calls without leaving your child's side.
Remember, having a pool installed in your yard should allow you to relax instead of bringing stress. With a few key pool safety equipment pieces, you will be able to keep the area safe and fun. For year-round pool enjoyment with your family, consider
investing in a solar pool heater
. For more information
view the resources
on our website to see if solar is a good option for your home!
Topics: Swimming Pool Ideas
Get a Free Analysis & Quote