The only luxury of being a pool owner is not just the relaxation it brings to your home. An added benefit many tend to forget about is the additional space to practice aerobics - water aerobics that is. Underwater exercises provide extra health benefits beyond traditional land exercises. For instance, muscle training is increased due to the push and pull of the water creating extra resistance with very low impact on joints. Swimming pool exercise equipment can be used together with water aerobics to enhance these benefits. Here are some of the best you can try out at home.
Aqua Versa-Tube.
The versa-tube is essentially a waterproof resistance band to be used in the pool. Most are made with a coating that prevents damage from chlorine so it can be used over time without showing much wear and tear. Each band has plugs at its ends to keep out water, and the material of the handles and tube will not absorb water.
One exercise that can be done with the aqua versa-tube consists of standing on the end of the tube, placing one hand on the waist, and grabbing the other end handle with the opposite hand. Stretch out the arm holding the handle as high as you can and then gently bring back down. Repeat for both sides. An advanced alternative to this is to stand in the middle of the tube, grabbing both handles, and lifting simultaneously with both arms.
Water Dumbbells.
Just as these weights can be used for land workouts, they can also be used to increase cardiovascular stamina by holding them while performing water aerobics. The foam material should not chip or absorb water which will consistently offer a more intense workout. Bicep curls, lateral raises, and upright rows are ideal exercises for use with water dumbbells.
Water Cuffs.
These are ideal for providing flotation while conditioning your body in deep water. Placed on your ankles or wrists, water cuffs provide additional resistance to your underwater workout to make it more challenging. Water cuffs compliment well with jogging or jumping in place, underwater arm exercises, or underwater kicking.
AquaJogger Belt.
This thick, foam belt is primarily used to support the lower back by helping to suspend the body vertically in the water at shoulder level. Some may choose to wear the belt in the front or upside down depending on whichever feels comfortable. Either way, the same function is performed. As with most swimming pool exercise equipment, the material of the foam resists chlorine damage and water absorption.
An AquaJogger Belt is ideal for performing open-close exercises with your legs. As it holds you afloat in the water, your arms and legs are free for movement. While opening and closing your legs, be sure to keep your toes pointed toward the bottom of the pool and your back straight for optimum results. You may also choose to scissor your legs back and forth, rather that stretching them outward. With this skiing simulation, add opposing arms to mimic a real skiing motion and gain an arm workout.
Pull Buoy.
A buoy designed to fit between your legs, this foam tool provides flotational support for the lower body. By preventing any kicking, you can focus on upper body training in any depth of water. When the pull buoy is in place, you can try keeping one arm extended and using the other to stroke across the water. For a more challenging exercise, use the buoy to complete a stroke with one arm and transfer it to the opposite when the motion is complete.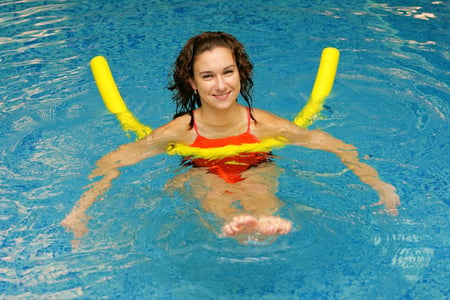 Water Noodle.
One of the most common flotation devices found in home pools are water noodles, but they also double as great swimming pool exercise equipment. Not only are they perfect for keeping you afloat while relaxing in the pool, but they can also be used for stabilization during resistance training. They provide support for little impact on your joints due to their flexibility.
When performing jumping jacks, jogging or jumping in place, water noodles are great for keeping your balance. Another great exercise they can aid with are in-water sit ups. Hang on to the noodle at your chest and pull your knees up to it in a repeated motion to simulate traditional crunches.
Owning a pool is a wonderful investment for more reasons than lounging around on a beautiful day. Improve your health and never miss a beat with your workout routine when you utilize your pool for underwater aerobics year round. Superior Solar would be glad to help you take that step by offering you economically-friendly, solar pool heating options. Contact a representative to find out how you can start enjoying the added benefits of a heated pool today.
Topics: Swimming Pool Ideas
Get a Free Analysis & Quote