Deciding when to start swimming lessons can be tricky. Kids should learn about water safety as soon as possible, but they need basic motor skill to swim. Most kids aren't able to swim on their own at this age, but they can get used to the water and learn basic skills like floating on their back and holding their breath. This reduces the risk of drowning.
According to the Centers for Disease Control and Prevention, more children from one to four years old die from drowning than from any other cause except birth defects. However, swimming lessons don't eliminate the risk completely. Kids should be supervised around water even after they learn to swim.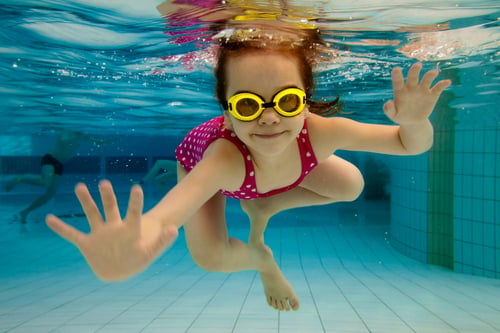 The Best Lessons After you choose when to start swimming lessons, you need to find the best class for your child. Parent-and-child aquatic programs are a great way for parents to learn about how to keep kids safe around the water, as well as introduce children to the fun of a pool. Classes should be small so that the instructor can pay attention to every student. The American Red Cross has less than 10 students per instructor. There should also be a lifeguard on duty. The teacher can't act as a lifeguard at the same time.
Deciding When Kids Are Ready for More Challenging Swimming
Most kids who start swimming lessons between one and four years old learn to swim on their own when they're about five. They'll still need a life jacket or other flotation device to explore the deep end of a pool. When your child is around seven, he or she should be strong enough to swim in all parts of the pool without assistance. However, a life jacket is still a good idea on a beach with strong waves. Visit a beach with a lifeguard for extra peace of mind.
Pool Safety
Build a fence around your pool to keep your kids or neighborhood kids from using it without supervision. Add a pool alarm and a pool cover for extra protection. Teach kids to avoid injuries by never running around a pool or diving before making sure that the water is deep enough. All adults should learn CPR and carry a cell phone when sitting by the pool. Seconds count in an emergency. Even with floaties or a life vest, you should stay within reach of young children. Since their bodies are smaller, toddlers can easily catch hypothermia from cold water in a pool. Remove kids immediately if you notice shivering, confusion, or blue extremities.
Fortunately, you can mitigate this danger and enjoy your pool with your kids year-round with an efficient, economical, environmentally friendly
solar pool heater from Superior Solar
. With Florida's sunny weather, you can even use your pool in winter. Just set the system to heat your pool to the desired temperature. That way, your child won't have to wait after you decide when to start swimming lessons. Contact us at Superior Solar for a
free quote on a solar pool heater
for you and your family.
Topics: Swimming Pool Ideas
Get a Free Analysis & Quote