Source: www.thegreenminer.com
I attended the Solar Power International conference in Orlando a couple of weeks ago and learned something interesting about the roof of the building where the conference occurred.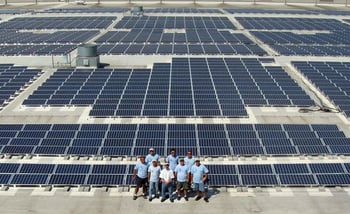 The Orange County Convention Center in Orlando is the second largest such facility in the US. My sore feet will attest to that fact after walking many miles through the exhibits. The roof of the Center is the surface for a big solar panel array. The capacity of this solar farm in downtown Orlando is almost 1.1 Megawatts.
James Doyle is a senior project manager for Solar Source, the Largo, Florida based company that designed and installed that solar power system in 2009. According to Mr. Doyle, the Orange County Convention Center's average power bill is about $1 million a month. That's a lot of electrons.
The solar panels on the roof save the Center between 10% - 12% of that power bill, month in, month out. It's an impressive savings. But even more impressive is how much the economics for solar systems have improved since that system was installed.
Read More
Topics: News, Solar Source in the News